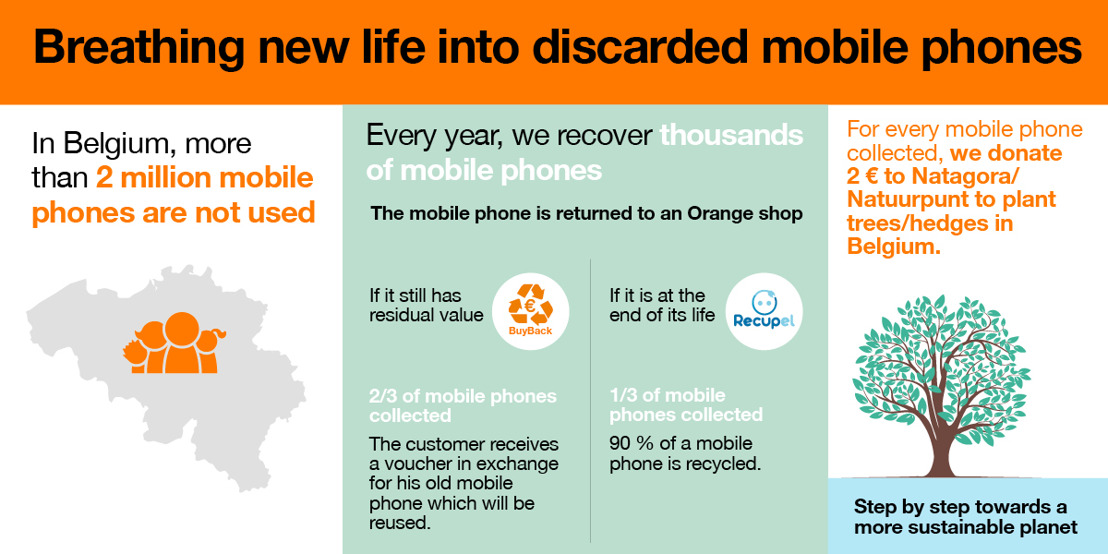 Orange Belgium ambitions a leader position on developing a sustainable smartphone market
In Belgium, more than 2 million mobile phones are not being used because they are outdated, not operational or simply forgotten in a drawer . As part of its commitment to the environment, Orange Belgium is raising awareness to the general public by offering a simple solution: bringing the mobile phone back to an Orange shop gives it a second life and helps making the planet a little greener. Orange Belgium will therefore boost its BuyBack program, promote sustainable smartphones and soon start selling refurbished smartphones in its commercial network.
Orange Belgium is strongly committed to operate in the most sustainable way and to reduce its impact on the planet. After raising its CO² reductions objectives to -30% by 2023, the operator goes a step further by tackling another impact of the telecom sector: the life of devices after they stop being used by the customers. These objects are made of plastic and glass, as well as non-renewable natural materials that are essential to preserve. It takes 70kg of raw materials to produce a 120g smartphone and, on average, a ton of mobile phone circuit board contains about 300g of gold.
Orange Belgium already collects thousands of mobile devices each year, by allowing customers to bring their old devices back to a shop. Worldwide, the Orange Group has already collected more than 15 million devices. If the device still has some value, (in 65% of the cases) the customer receives it under the form of a voucher to buy a new device and the old one is reused, through the usage of spare parts for support services, for instance. The devices with no residual value are recycled via the collective organization Recupel, which can recycle up to 90% of its materials.
In any case, for each device that lands in Orange's BuyBack program, Orange Belgium gives 2 euros to the environmental protection program Natagora/Natuurpunt. Thanks to this collaboration, started in December 2019, Natagora and Natuurpunt will be able to plant nothing less than 1.500 trees, which represents 1 tree for each Orange Belgium's employee.
Promote sustainable and refurbished devices
In order to give a boost to its BuyBack program, Orange Belgium launches as of today a major media campaign (TV, cinemas and online) to sensitize the general public on the joint responsibility of telecom operators and customers in recycling and in giving those devices a second life. Orange Belgium will therefore offer 10 euros more to each customer returning a device to one of its shops and launches a brand new online tool allowing customers to return devices from home and a specific 50 euros BuyBack bonus to each customer returning a device in order to buy a new Fairphone 3+. The Fairphone 3+ is the most sustainable smartphone available on the Belgian market thanks to its very strictly defined production conditions, its innovative design which makes it easier to repair and a strict attention to resources usage and waste reduction. It is, for instance, composed of as many as 40% recycled material.
Furthermore, as from 10th November 2020, Orange Belgium will, for the first time, start selling refurbished smartphones in its commercial network, offering those devices a second life, while also allowing customers to buy devices which are still highly qualitative at a fair price.
Xavier Pichon, CEO of Orange Belgium, comments: "We strongly believe it is our duty to act as a responsible telecom operator, by reducing our ecological footprint and promoting sustainable processes and devices. We want to encourage customers into offering their old devices a second life, be it through recycling, spare parts for reparations or refurbishing, as it reduces the overall ecological footprint, and allows a more sustainable working of the smartphone market, with easier reparations and the possibility to bring refurbished devices at a reduced price."
Younes Al Bouchouari Spokesperson, Orange Belgium
Annelore Marynissen Corporate Communication Manager, Orange