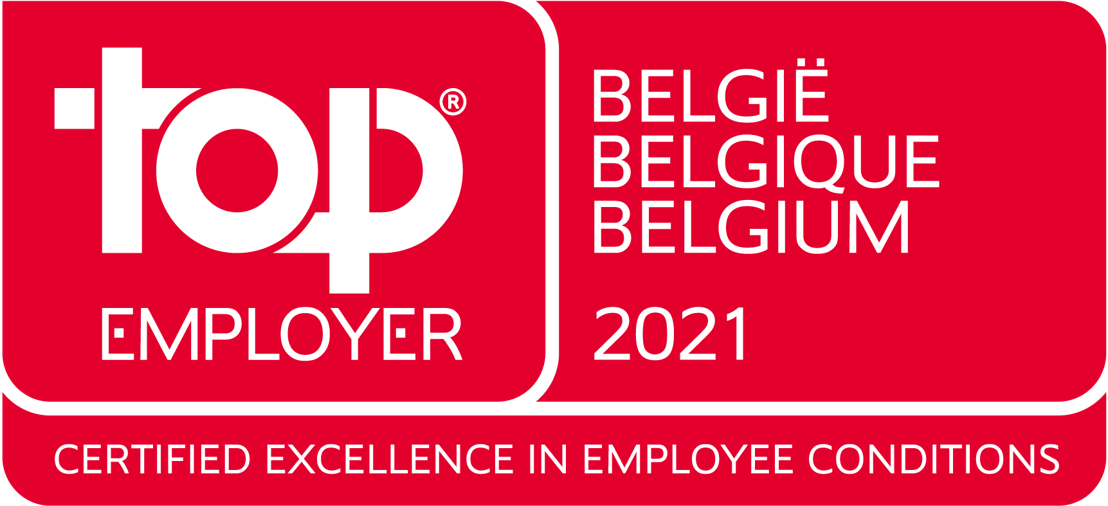 Orange Belgium elected as TOP EMPLOYER for the 10th time in a row
For the 10th time in a row, Orange Belgium was elected as TOP EMPLOYER by the Top Employers Institute. It is a great recognition for Orange Belgium's numerous efforts in providing a digital and caring working environment to its more than 1.400 employees.
Today the Top Employers Institute published the results of its annual survey, screening a large number of Belgian employers and making a thorough analysis of the work conditions they offer. And Orange Belgium is again getting excellent marks, allowing the telecom provider to be elected as TOP EMPLOYER for the 10th time.
Isabel Carrion, Chief People Officer at Orange Belgium, commented: "We are proud of this recognition for the quality of the working environment we offer and our commitment to constantly improve our approach and our processes, in order to become an even better employer. The year 2020 has been seriously disrupted and very challenging due to the Covid19 pandemic but we did our best to ensure the safety of our employees, to handle the switch to 100% teleworking, or the temporary closure of our shops. But we went further by offering our employees as much information and support as we could and by following closely their mood through regular surveys, which allowed us to identify action points to better support them. We mostly want to thank all our employees for the tireless efforts they made to navigate through the crisis for the benefit of our customers and the society as a whole in this very peculiar year. They really are the greatest asset of this company and our best ambassadors, thanks to their pride of being part of our aventure."
Top Employers Institute awards Orange Belgium
The Top Employers Institute is an independent organization that compares employers' work conditions with international standards. Therefore only leading global employers can apply for a Top Employers certificate. The certificate takes into account several criteria: Talent Strategy, Workforce Planning, Integration of new employees, Training and Development, Performance Management, Leadership Development, Career and succession management, Compensation and Benefits, Culture.
Younes Al Bouchouari Spokesperson, Orange Belgium