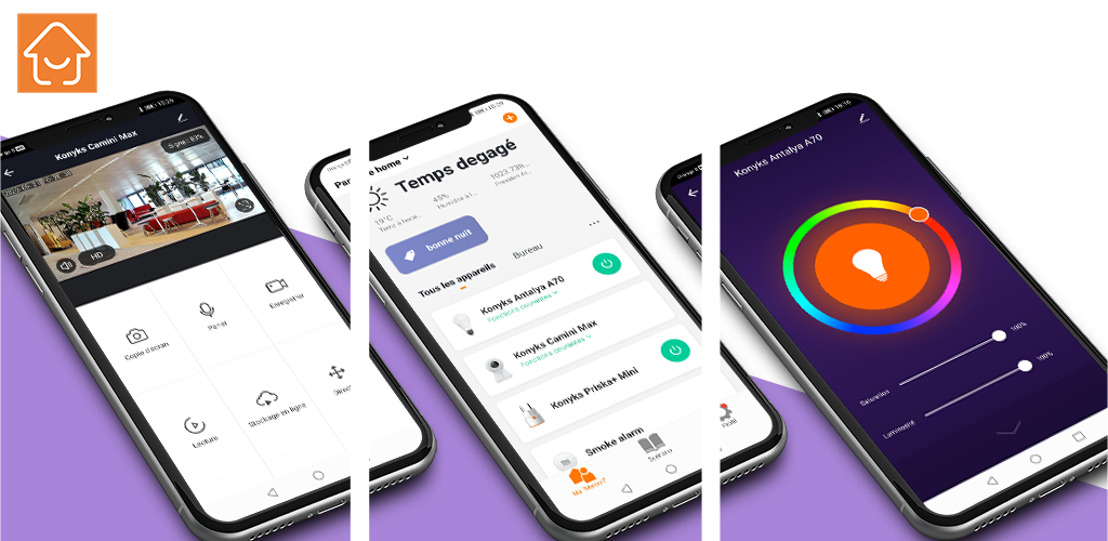 Orange Belgium launches a Smart Home portfolio and its own dedicated app to control every device that makes a customer's home safe and smart
The customer's appetite for smart devices keeps growing, and to offer an answer to this demand, Orange Belgium launches today its Smart Home portfolio, a complete offer of smart devices such as connected cameras, smart plugs and smart light bulbs, which can all be controlled thanks to a brand new mobile application, to make the customers' homes smarter, more secure and more energy efficient in a very easy way.
Allowing customer to build their own smart home scenarios
As from today, Orange Belgium launches a brand new portfolio to democratize domotics and help customers turn their home into a smarter and funnier home that makes life easier. Orange Smart Home offer is structured around three main types of devices: connected light bulbs, smart cameras and smart power plugs from the manufacturer Konyks, distributed for the first time in Belgium. These come on top of the already available Google Nest Mini, Nest Hub and Chromecast, for a full smart home experience.
No need to be a techy to enjoy those: the customer will be able to easily control theses appliances thanks to a brand new mobile application, Orange Smart Home, which allows the definition of complete scenarios such as "turn off the power sockets when I leave home" or "turn the camera on privacy mode when I am home", for instance. A great way to enjoy the perks of a really smart home: reducing energy consumption, increasing security and comfort, enjoying new forms of entertainment.
An open app for every device and every customer
Important to note also, is the fact that this free mobile application will allow a complete control on the appliances distributed by Orange Belgium, but also on every connected device or appliance using the smart communications platform of Tuya, a leading global AIoT platform provider, which means more than 30.000 different references worldwide, from connected doorbells to smart fridges.
Thanks to the Orange Smart Home app, open to non-Orange customers, the possibilities to develop new scenarios are thus almost unlimited. Also, the service is compatible with the main voice-enabled assistants such as Google Mini/Nest Hub and Alexa, allowing a complete control through voice commands such as "Hey Google, show me the kids' room".
To put forward the advantages of connected and smart appliances, Orange Belgium also unveils three bundled offers, which include price reductions as a loyalty advantage for new and existing customers subscribing for 12 months: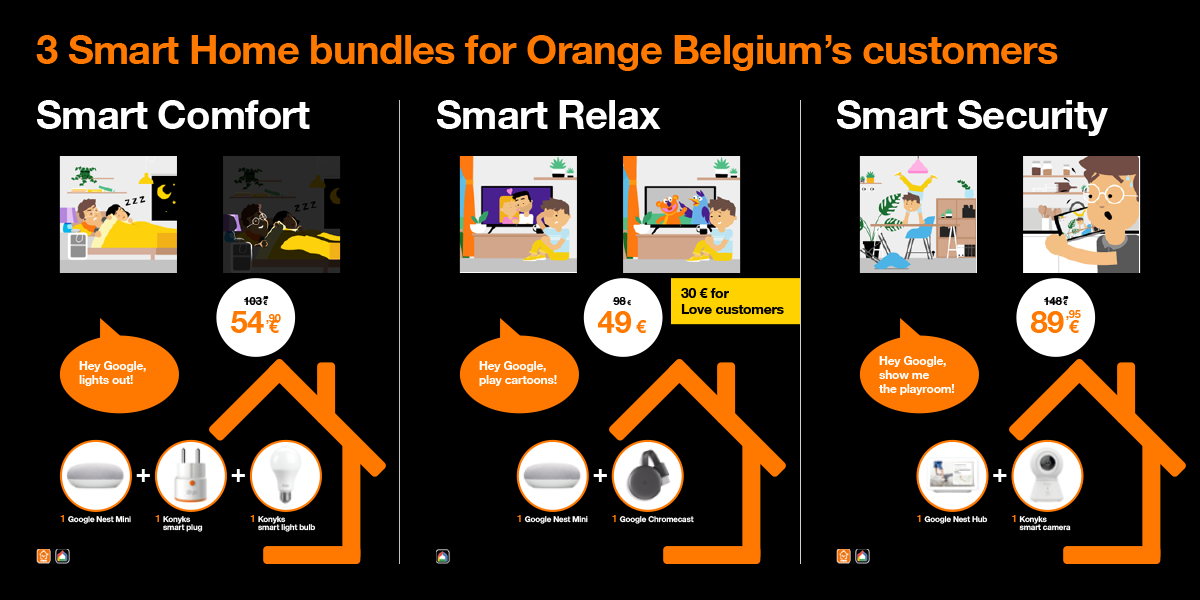 All the products can also be purchased alone, allowing customers to create their own personalized experience.
Christophe Dujardin, Chief Consumer Officer of Orange Belgium, comments: "As a Bold challenger, we strongly believe in the interest of bringing relevant technology at a fair price to customers, without locking them in closed environments. Our Smart Home offer is a great way to make those kinds of new appliances accessible for a broader public. And to go even further, we offer to anyone interested the access to our mobile application to control these devices and many others, allowing customers to create their own smart home experience."
More info on www.orange.be/smarthome
Younes Al Bouchouari Spokesperson, Orange Belgium
Annelore Marynissen Corporate Communication Manager, Orange